Announcing the launch of In Review
Porcine Health Management, in partnership with Research Square, is now offering In Review. Authors choosing this free optional service will be able to:
Share their work with fellow researchers to read, comment on, and cite even before publication
Showcase their work to funders and others with a citable DOI while it is still under review
Track their manuscript - including seeing when reviewers are invited, and when reports are received
Editors-in-Chief
Prof Paolo Martelli, Università di Parma, Italy
Prof Joaquim Segalés, Universitat Autònoma de Barcelona & Centre de Recerca en Sanitat Animal, Spain
Aims and Scope
Porcine Health Management is an open access peer-reviewed journal that aims to publish relevant, novel and revised information regarding all aspects of swine health medicine and production. The journal provides a venue for global research on swine health and production, including infectious and non-infectious diseases, reproduction, epidemiology, management, economics, genetics, housing, nutrition, animal welfare and ethics, legislation, food safety, drugs and surgery.
Featured Collection: Porcine Virology
Editors-In-Chief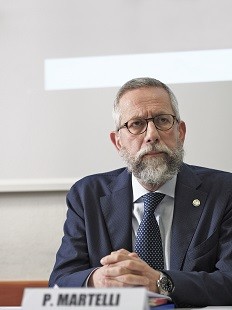 Paolo Martelli, DVM, EBVS® European Veterinary Specialist in Porcine Health Management
Paolo Martelli is a Full Professor of Veterinary Clinical Medicine at the Department of Veterinary Science of the University of Parma (Italy). He is founding Father of the European College of Porcine Health Management and he has served the College as Chair of the Education Committee (2011-2013) and President (2016-2019). He was also President of the Italian Pig Veterinary Society.
His research interests include porcine herd health, clinical immunology, infectious and non infectious pig diseases.
Joaquim Segalés, DVM, PhD
Joaquim (Quim) Segalés is a Professor at the Veterinary School of the Universitat Autònoma de Barcelona, in Spain, teaching animal pathology and swine clinics to veterinary students. He is also a researcher of the Centre de Recerca en Sanitat Animal (CReSA), a research center belonging to IRTA (Research Institute for Technology, Food and Agriculture); he was the director of CReSA between 2012 and 2017. He is a founding diplomate of the European College of Porcine Health Management and served as president of the College during the period 2013-16.
Quim has spent his research career on pathogenesis, immunity, control and other aspects of several diseases of swine, including PRRSV, PCV2, Aujeszky's disease virus, Torque teno viruses, Hepatitis E virus, H. parasuis and M. hyopneumoniae.
Affiliated with
The European College of Porcine Health Management is a non-profit organisation to advance health-orientated porcine production management in the herd context in Europe, and increase the competency of those who practice in this field.

Follow