Swine enteric colibacillosis: diagnosis, therapy and antimicrobial resistance
Porcine Health Management
2017
3:16
Received: 5 January 2017
Accepted: 25 May 2017
Published: 8 August 2017
Abstract
Intestinal infection with enterotoxigenic Escherichia coli (ETEC) is an important disease in swine resulting in significant economic losses. Knowledge about the epidemiology, the diagnostic approach and methods of control are of fundamental importance to tackle the disease. The ETEC causing neonatal colibacillosis mostly carry the fimbriae F4 (k88), F5 (k99), F6 (987P) or F41, while the ETEC of post-weaning diarrhoea carry the fimbriae F4 (k88) and F18. These fimbriae adhere to specific receptors on porcine intestinal brush border epithelial cells (enterocytes), starting the process of enteric infection. After this colonization, the bacteria produce one or more enterotoxins inducing diarrhoea, such as the heat stable toxin a (STa), the heat stable toxin b (STb), and the heat labile toxin (LT). A role in the pathogenesis of the disease was demonstrated for these toxins. The diagnosis of enteric colibacillosis is based on the isolation and quantification of the pathogenic E.coli coupled with the demonstration by PCR of the genes encoding for virulence factors (fimbriae and toxins). The diagnostic approach to enteric colibacillosis must consider the differential diagnosis and the potential different causes that can be involved in the outbreak.
Among the different methods of control of colibacillosis, the use of antimicrobials is widely practiced and antibiotics are used in two main ways: as prophylactic or metaphylactic treatment to prevent disease and for therapeutic purposes to treat diseased pigs.
An accurate diagnosis of enteric colibacillosis needs an appropriate sampling for the isolation and quantification of the ETEC responsible for the outbreak by using semi-quantitative bacteriology. Definitive diagnosis is based on the presence of characteristic lesions and results of bacteriology along with confirmation of appropriate virulence factors to identify the isolated E.coli. It is important to confirm the diagnosis and to perform antimicrobial sensitivity tests because antimicrobial sensitivity varies greatly among E. coli isolates. Growing concern on the increase of antimicrobial resistance force a more rational use of antibiotics and this can be achieved through a correct understanding of the issues related to antibiotic therapy and to the use of antibiotics by both practitioners and farmers.
Keywords
Colibacillosis
ETEC
Pig
Diarrhoea
Diagnosis
Control
Background
Escherichia coli is a gram negative peritrichously flagellated bacteria belonging to the family Enterobatteriaceae and is the causative agent of a wide range of diseases in pigs, including neonatal diarrhoea and post-weaning diarrhoea (PWD), which are important causes of death occurring worldwide in suckling and weaned pigs respectively [1].
Two main pathotypes are involved in enteric colibacillosis: enterotoxigenic
E.coli
(ETEC) and enteropathogenic
E.coli
(EPEC). ETEC is the most important pathotype in swine and include different virotypes (this term is used to describe strains characterized by different combinations of toxins and fimbriae). Outbreaks of neonatal and post-weaning diarrhoea due to ETEC infection, generally affecting a high proportion of pigs, are often recurrent in the same herds and require expensive control measures. Enteric colibacillosis may result in significant economic losses due to mortality, decreased weight gain, cost for treatments, vaccinations and feed supplements [
1
]. Depending on the severity of the disease, the cost of PWD was estimated to range from €40 to €314 per sow [
2
]. ETEC possess fimbriae which adhere to enterocytes and elaborate one or several enterotoxins (Fig.
1
) that induce secretory diarrhoea, causing some of the most significant diseases in the pig industry worldwide, such as neonatal colibacillosis and PWD.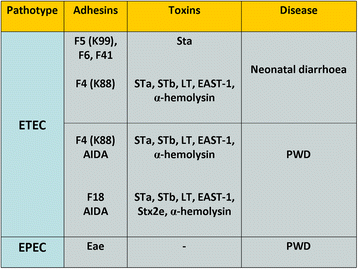 Strategies commonly used to prevent and control neonatal colibacillosis should be aimed to reduce the number of pathogenic E.coli in the environment, implementing hygienic measures and internal and external biosecurity. The maintenance of suitable environmental conditions and piglets' high level of immunity, guaranteed by lactogenic immunity and by vaccinations of sows against ETEC F4 (k88), F5 (k99), F6 (987P) and F41, reduce the risk of the disease's development.
Various approaches have been used to prevent ETEC PWD, including passive administration with specific antibodies, dietary supplementation such as prebiotics and probiotics and dietary preventive measures, genetic breeding for ETEC-resistant herds and live oral nontoxigenic E.coli vaccines [3].
Even if some of the preventive approaches reported above for both neonatal and post-weaning colibacillosis have shown some promise and efficacy, antibiotics are still frequently used to treat enteric colibacillosis, administered by the parenteral and oral routes. Under-dosing is frequent with oral administration in pigs and this condition can favour the selection of resistant bacteria [4]. Antimicrobials commonly used to treat enteric colibacillosis must be chosen for their ability to achieve therapeutic concentrations in the intestinal content. The most frequently used are enrofloxacin, apramycin, ceftiofur, neomycin, gentamicin, amoxicillin/clavulanic acid, trimethoprim/sulphonamide and colistin [1]. Antimicrobial resistance to apramycin, neomycin, trimethoprim-sulfonimide and colistin has been increasingly observed, in particular in ETEC strains causing PWD [3].
Managing enteric colibacillosis in pigs requires an understanding of the pathotypes and the virotypes of E.coli involved and the conditions under which they are capable of causing disease, in order to implement appropriate diagnostics and strategies for prevention and control. The key element for approaching an outbreak of colibacillosis in order to reach a reliable and accurate diagnosis, is the knowledge of the diagnostic process and the interpretative criteria of diagnostic methods.
This paper is aimed at addressing some of the major questions that are frequently asked when faced with ETEC enteric neonatal and post-weaning colibacillosis in the field, which are the main subjects of this review, concerning the diagnostic approach and the interpretation of the specific investigations, the measures of control based on antibiotic therapy and the impact of antimicrobial resistance in the control of these diseases.
Conclusion
The control of a disease begins with a correct diagnostic approach. The diagnosis of colibacillosis require an appropriate sampling for isolation of the pathogen and standardized diagnostic criteria, including the evaluation of antimicrobial susceptibility.
The therapeutic use of antimicrobials is widely practiced to control both neonatal and post-weaning colibacillosis, even if in many countries the prophylactic and metaphylactic use of the antibiotics is still common. Growing concern on the increase of antimicrobial resistance among pathogenic E. coli strains with an increased prevalence of multi-resistant E. coli strains from diarrhoeic pigs is leading to more attention on the alternatives to antibiotics such as vaccines, probiotics, prebiotics, additives, and management practices. Even if some preventive approaches have shown some promise and efficacy, in many cases the use of antibiotics is preferred to treat and control enteric colibacillosis.
Nowadays, there is concern over the increased phenomenon of antimicrobial resistance among bacteria isolated from production animals. The risk linked to this phenomenon increases if antimicrobials are used inappropriately, for example, in an untargeted manner (e.g. mass medication or use on non-susceptible microorganisms), at sub-therapeutic doses, repeatedly, or for inappropriate periods of time. These conditions force a more rational and judicious use of antibiotics.
Abbreviations
AIDA:

Adhesin involved in diffuse adherence
AMEG:

Antimicrobial Advice Ad Hoc Expert Group
AUC:

Area under the plasma concentration time curve
BW:

Body weight
cGMP:

Cyclic guanosine monophosphate
Cmax:

Maximum plasma concentration
EAST1:

Enteroaggregative E. coli heat stable enterotoxin
ED:

Oedema disease
EMA:

European Medicines Agency
EPEC:

Enteropathogenic E.coli
ETEC:

Enterotoxigenic Escherichia coli
IM:

Intramuscular
LPS:

Lipopolysaccharide
LT:

Heat labile toxin
MIC:

Minimum inhibitory concentration
PBPs:

Penicillin-binding protein
PCR:

Polymerase chain reaction
PCU:

Population correction unit
PD:

Pharmacodynamics
PEDV:

Porcine epidemic diarrhoea virus
PK:

Pharmacokinetics
PWD:

Post-weaning diarrhoea
qPCR:

Quantitative PCR
SC:

Subcutaneous
STa:

Heat stable toxin a
STb:

Heat stable toxin b
STEC:

Shiga toxin E.coli
Stx2e:

Shiga toxin
T:

Time
TGEV:

Transmissible gastro enteritis virus
Declarations
Acknowledgements
The author wish to thank Prof. Paolo Martelli.
Availability of data and materials
Not applicable.
Authors' Contributions
Not applicable.
Authors' information
AL, DVM, PhD and Diplomate ECPHM is in charge of the Diagnostic Laboratory of Reggio Emilia (IZSLER).
Competing interests
The author declare that they have no competing interests.
Consent for publication
Not applicable.
Ethicsapproval and consent to participate
Not applicable.
Publisher's Note
Springer Nature remains neutral with regard to jurisdictional claims in published maps and institutional affiliations.
Open AccessThis article is distributed under the terms of the Creative Commons Attribution 4.0 International License (http://creativecommons.org/licenses/by/4.0/), which permits unrestricted use, distribution, and reproduction in any medium, provided you give appropriate credit to the original author(s) and the source, provide a link to the Creative Commons license, and indicate if changes were made. The Creative Commons Public Domain Dedication waiver (http://creativecommons.org/publicdomain/zero/1.0/) applies to the data made available in this article, unless otherwise stated.
Authors' Affiliations
(1)
Istituto Zooprofilattico Sperimentale della Lombardia e dell'Emilia Romagna (IZSLER), Brescia, Italy